The Chloe Woody Tote Bag Ultimate Buying Guide
Chloé's 'Woody' tote bag is a gorgeous tote designed for your everyday needs, mostly spacious enough for travel and chic enough for style. It has been crafted in Italy from linen-canvas and is trimmed with leather and the iconic Chloe logo-printed webbing.
Since the debut of the Chloe Woody tote bag, it now comes in a range of styles, from leather to linen, canvas, shearling and crochet. So there's a style for everyone! It also comes in 5 different sizes: Nano, Mini, Small, Medium, and Large, and now also comes in a Small Basket design, as well as a Large Basket option. The range is so diverse!
The Chloe Woody collection doesn't just stop at bags though, the Woody sandals are really popular and you would probably recognise them if you saw them. I have wanted a pair for a while, but I'm concerned they might hurt my feet due to them being canvas. I featured them in the designer summer sandals blog post.
I've put together the ultimate buying guide for the Chloe Woody tote bag and it compiles every single size and style, so you can choose the right size for you! We're all different heights, shapes and sizes, so just refer to this buying guide to make sure you end up with the perfect size Chloe Woody bag!

The Chloe Woody Nano Tote Bag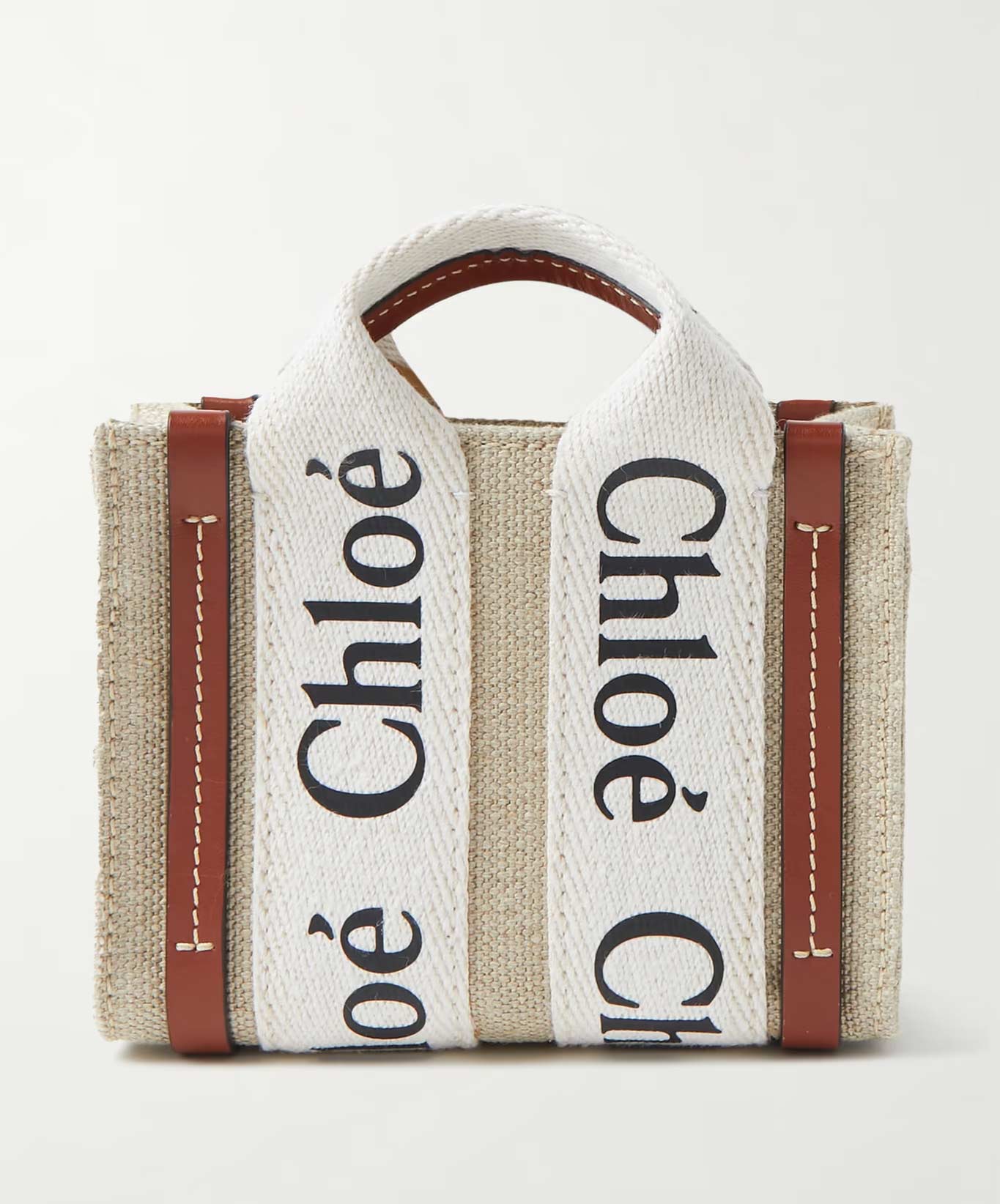 The Chloe Nano Woody tote bag is the tiniest of them all! It's super cute and works really well as a cross-body bag, coming in the most adorable crochet or linen mix. I had to share the crochet as it's the cutest little thing! The sizing of the Nano Woody is as follows:
Handle Drop: 3cm / 1.2in
Depth: 5cm / 2in
Max. Strap Length: 108cm / 42.5in
Height: 11cm / 4.3in
Width: 13cm / 5.1in
And I also included modelled shots so that you can see just how tiny it is! It looks like it's bigger than the Jacquemus tiny bag, but I'm not sure it would fit an iPhone since it's only 5.1 inches in width. It's more of a fun piece for carrying around some lipstick and credit cards (possibly keys.) I think the Nano Woody is a great option if you love adorable little bags!

The Chloe Woody Mini Tote Bag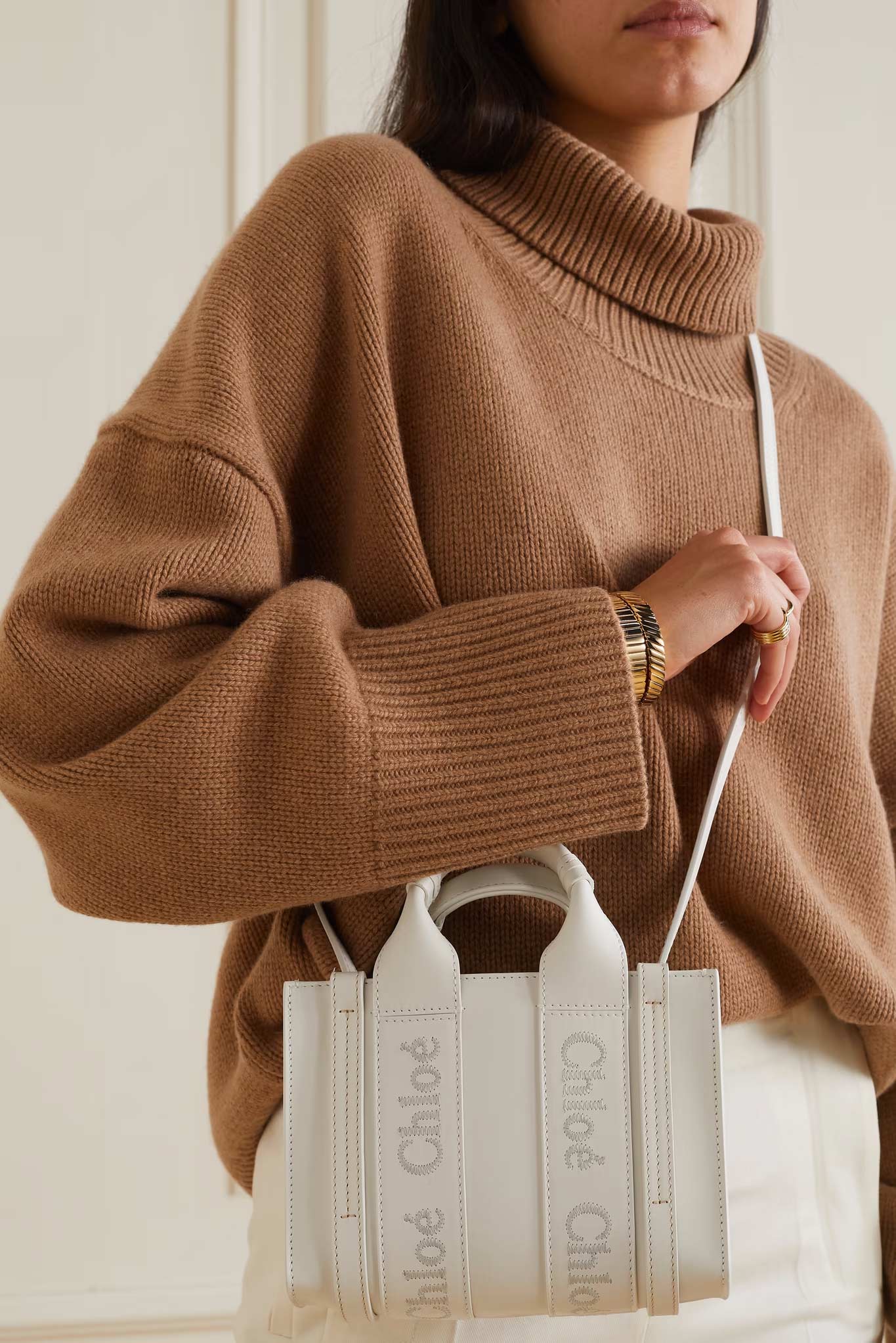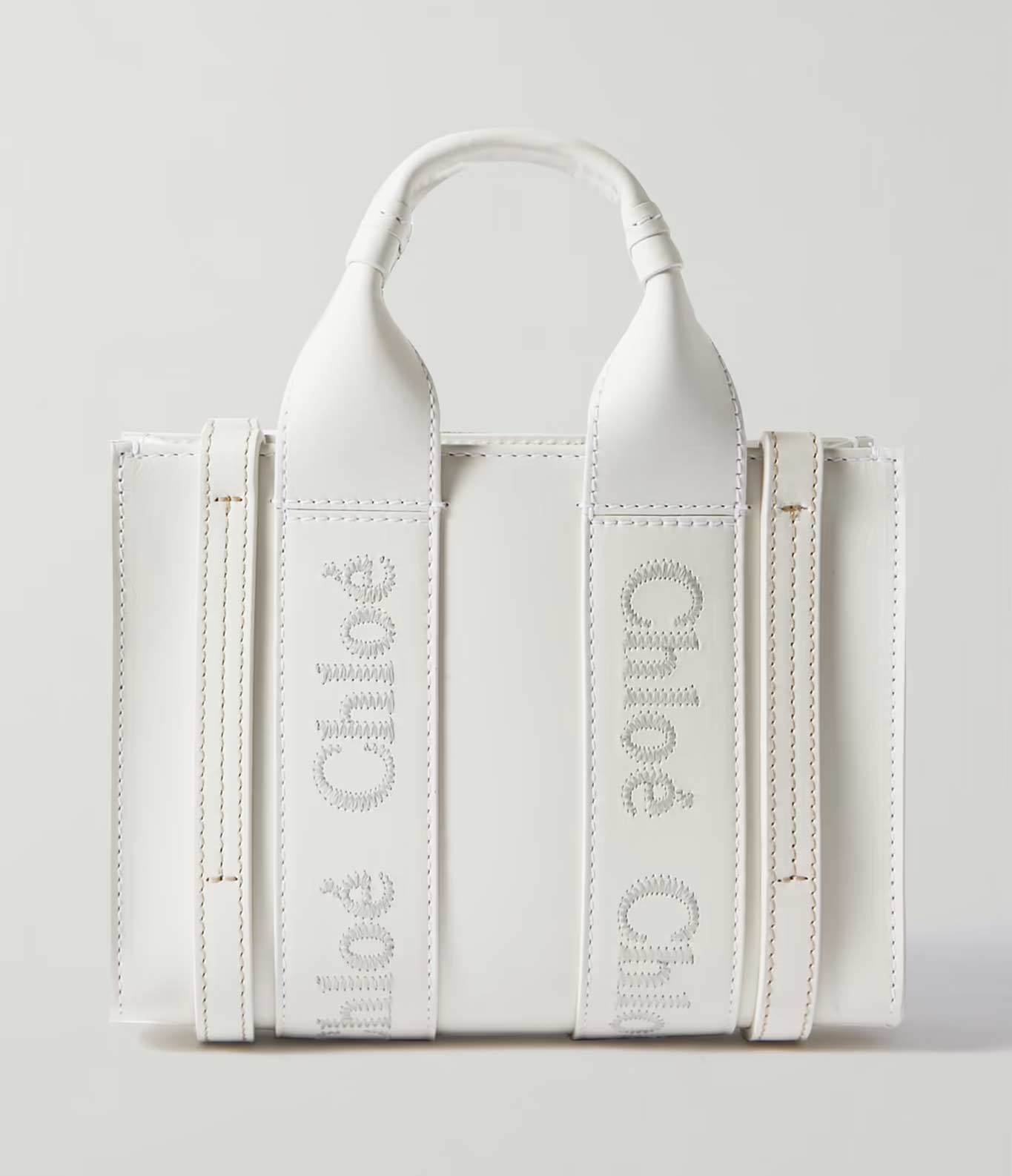 The next size up in the Chloe Woody tote series is the Nano version. This is a fair amount bigger than the Nano above and definitely fits an iPhone as it's almost 8 inches in width. It comes in an array of different materials like canvas and leather, in many different colours. The dimensions of the Nano Woody are below:
Min. Strap Length: 109cm / 42.9in
Depth: 7cm / 2.8in
Max. Strap Length: 109cm / 42.9in
Height: 14cm / 5.5in
Width: 20cm / 7.9in
I find this size of the Woody to be more akin to a Mulberry Lily bag or the Celine Pico Belt Bag as that's around the same width, but a bit shorter in height. It's still pretty petite, but definitely big enough for all of your essentials. I would say the Nano is probably the size I would opt for for general use and I'm 5ft 4.

The Chloe Woody Small Tote Bag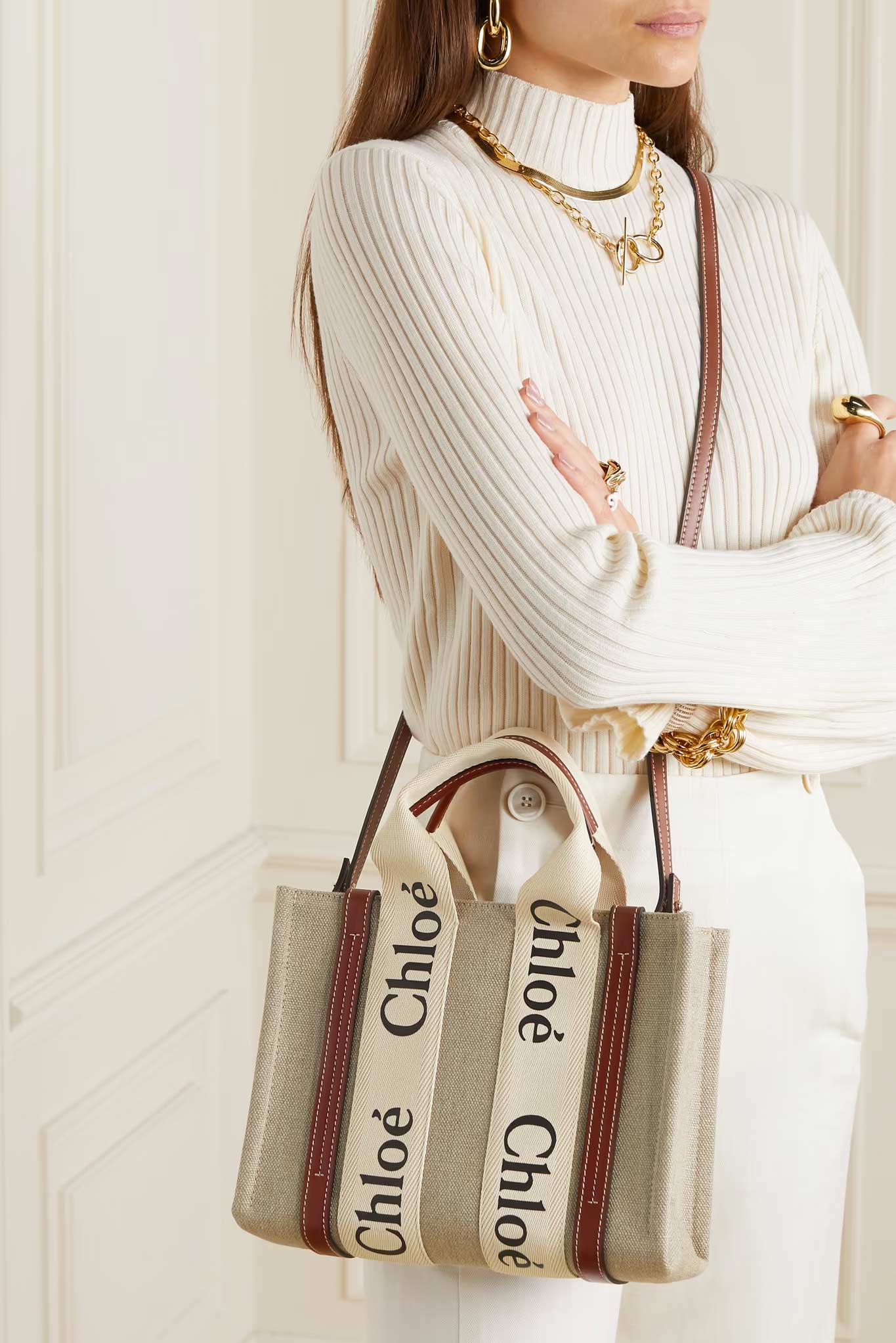 The next size up is the Chloe Small Woody Tote bag and it's probably the most versatile size for everyday needs! This is quite a size up from the Mini above, and it comes in the most wide array of materials and colours, so you can't go wrong with this version! The measurements are:
Min. Strap Length: 94cm / 37in
Handle Drop: 13cm / 5.1in
Depth: 8.5cm / 3.3in
Max. Strap Length: 114cm / 44.9in
Height: 25cm / 9.8in
Width: 26cm / 10.2in
I would say this is quite a bit larger than the Saint Laurent Nano Sac de Jour, as that's around 22cm wide and 19cm high, but for those of you familiar with the bag, it might give you a rough idea. I'm included modelled images though so you can really see how each of these sizes fits and looks. The Small Woody with the rainbow stitching is probably my favourite of them all! Isn't it pretty?

The Chloe Woody Medium Tote Bag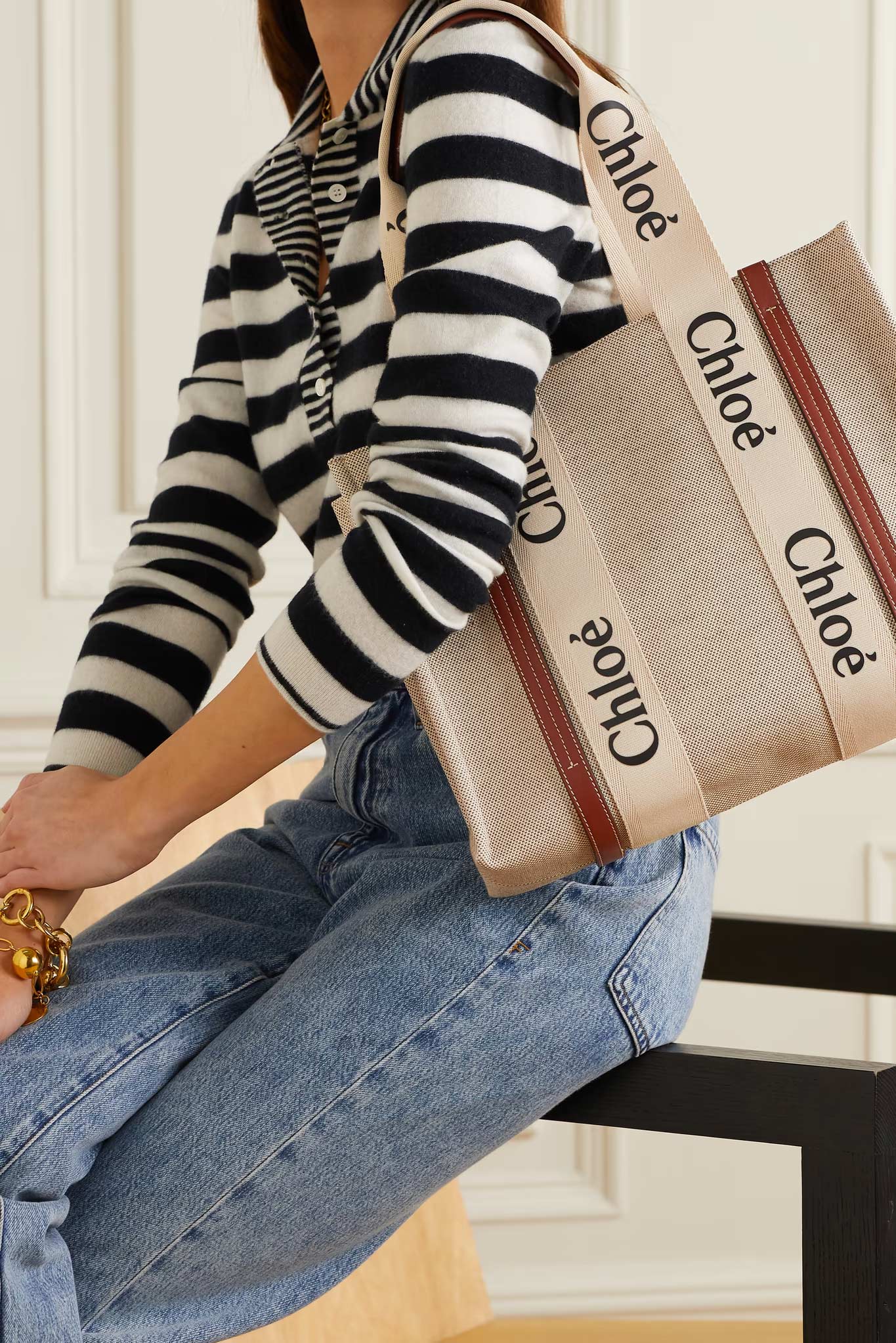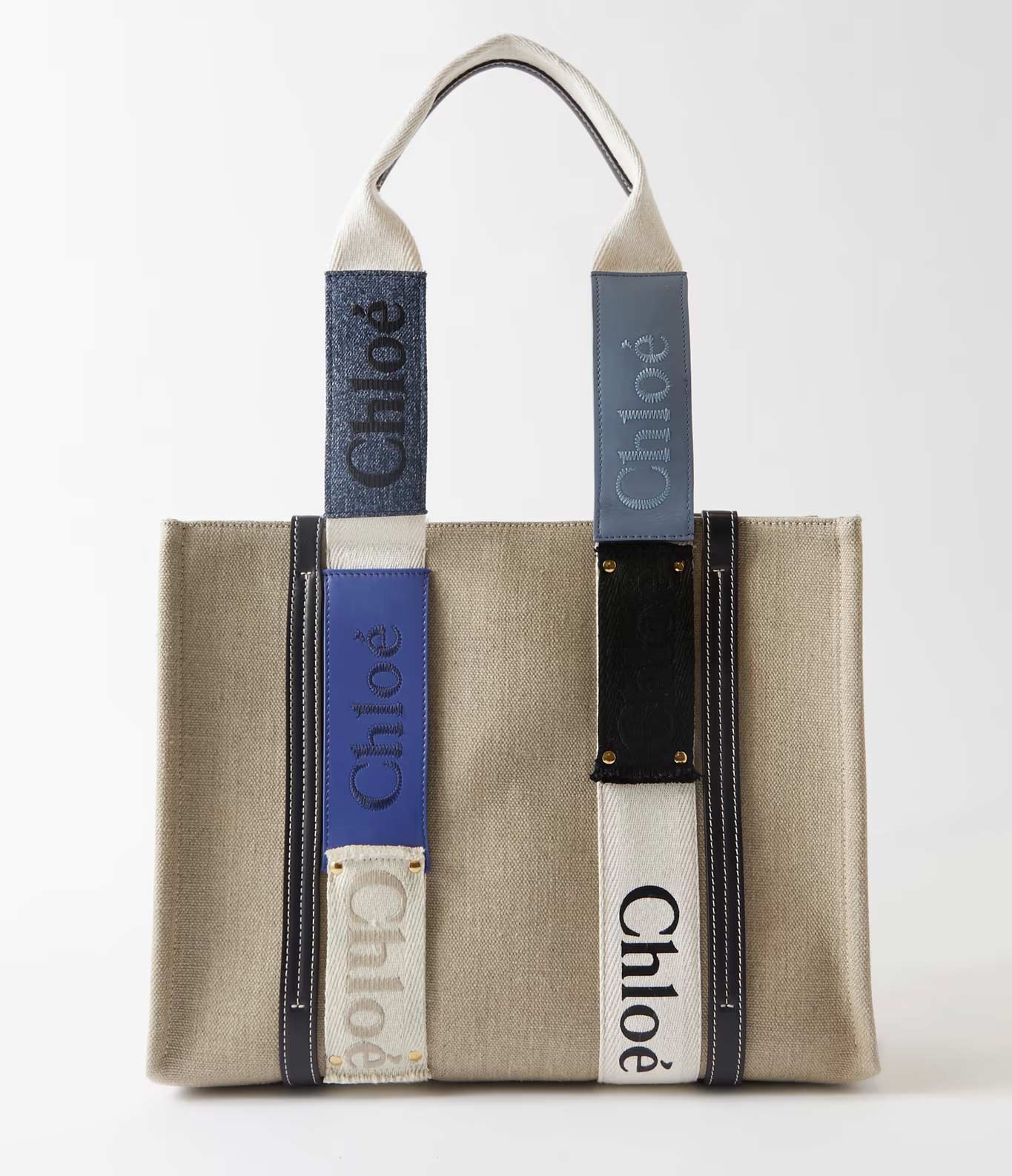 Second from last, we have the Chloe Medium Woody tote bag and it's perfect for taking to work or using for travel. It fits pretty much everything you can want it to, without being too overwhelming to your frame. The Medium comes in some gorgeous canvas versions, as well as leather, and the dimensions are as follows:
Handle Drop: 58cm / 22.8in
Depth: 12cm / 4.7in
Height: 30cm / 11.8in
Width: 36.5cm / 14.4in
So you can see, it's one of the most perfect everyday totes – especially for work. I would say this would make a good carry on bag for airplane travel too, as long as it meets your airlines measurements, but I don't see why it wouldn't! The Medium does come with longer top handles so that you can carry it on your shoulder comfortably, and I think that's a great design addition.

The Chloe Woody Large Tote Bag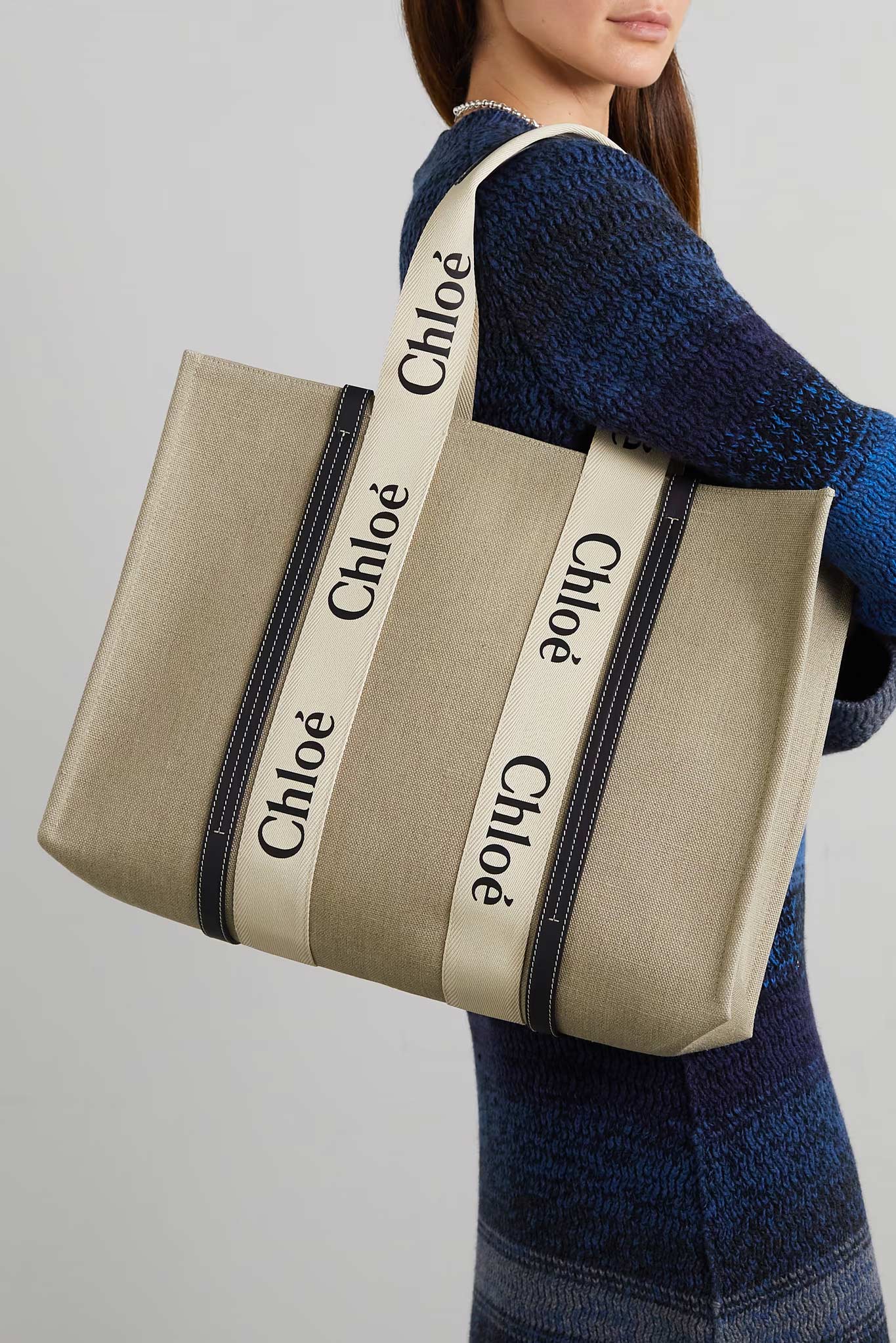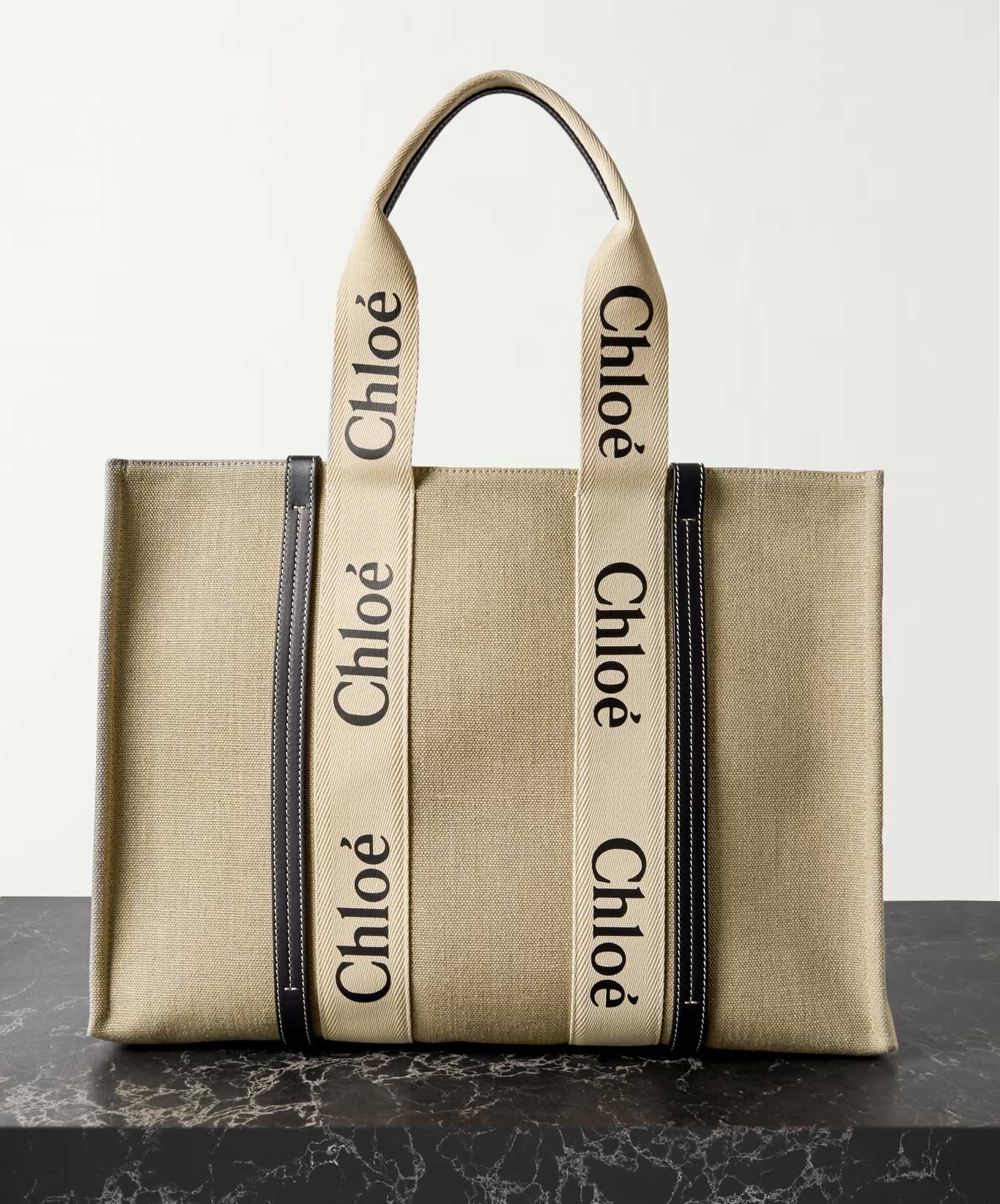 Lastly in the standard tote style Chloe Woody bags, this is the Large Woody and it's the biggest of them all. This is the version that I see on a lot of celebrities and fashion bloggers, so it seems like the essential carry tote for everything you need in the day, or travel. The dimensions are:
Handle Drop: 21cm / 8.3in
Depth: 13cm / 5.1in
Height: 34cm / 13.4in
Width: 43cm / 16.9in
So you can see that it's a pretty big tote, not just from the photos of people wearing it, but from the measurements I gave too. The handles are elongated on this tote too so that you can wear it on the shoulder for comfort – but again, this would be ideal for airplane travel! It comes in so many different materials and colours, but the classic grey and brown canvas is my favourite.

The Chloe Woody Small Basket Bag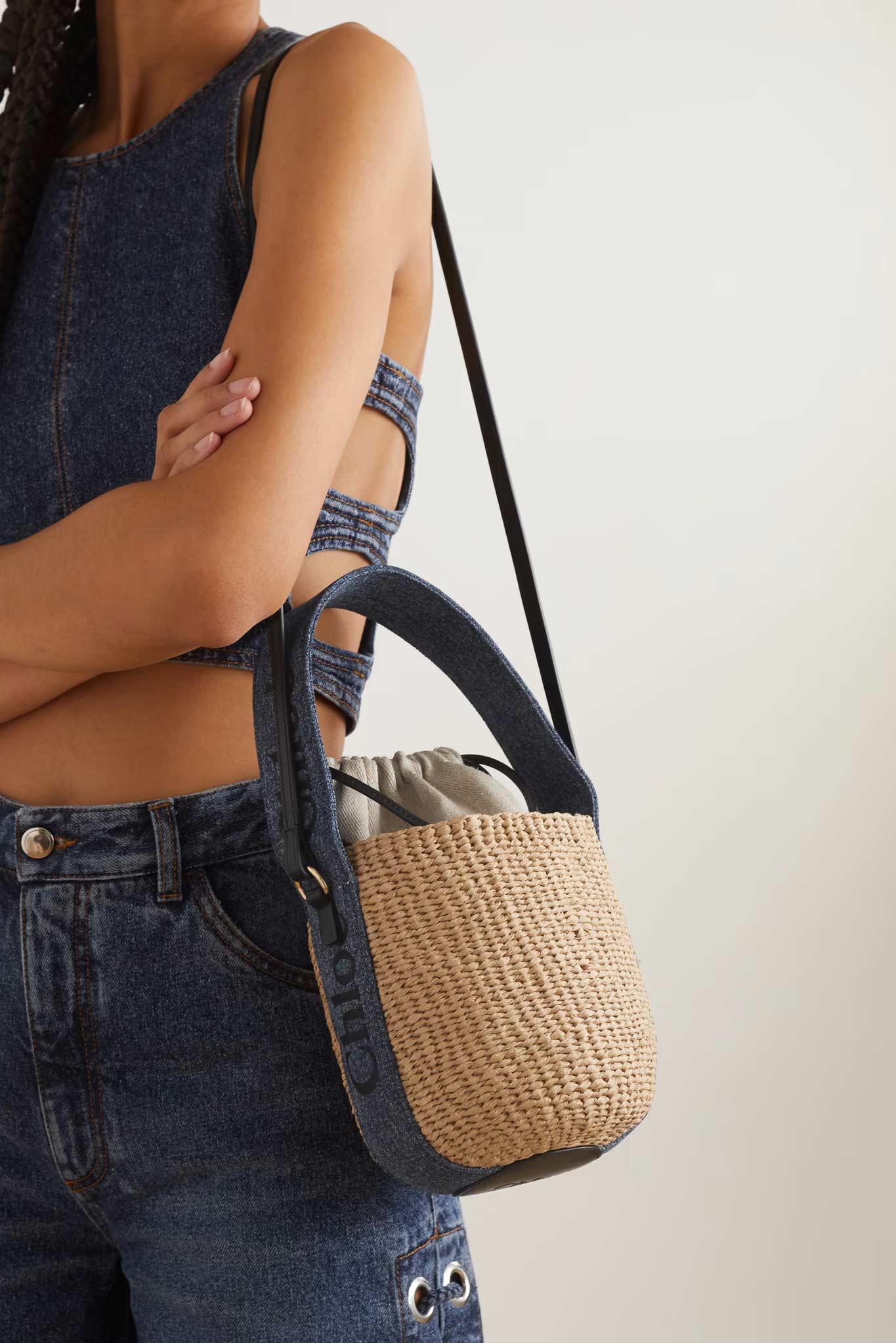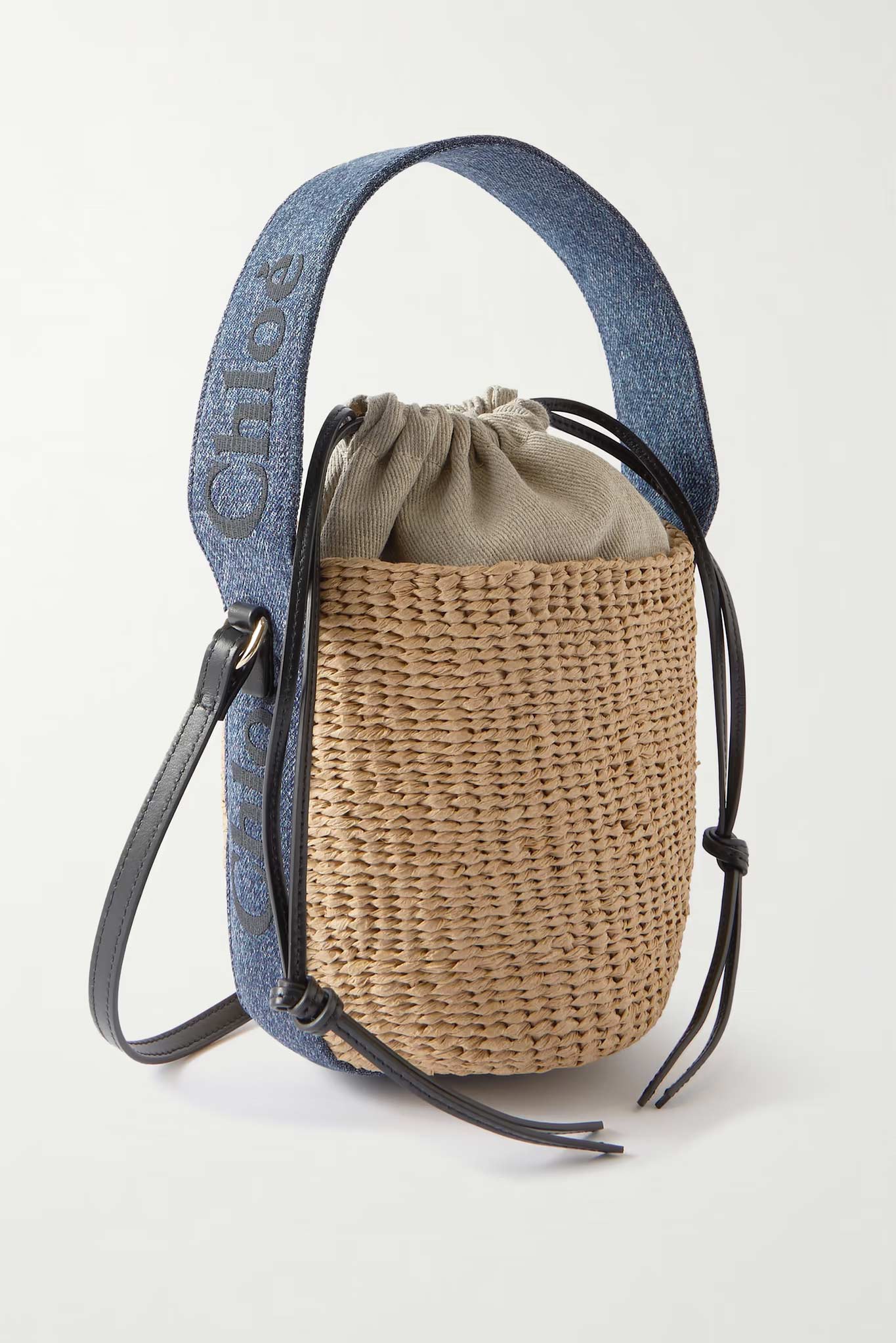 Moving onto a different Chloe Woody design, this is the Small Woody Basket tote bag and it's super cute! This is perfect for the spring and summer as it features a wicker basket with a drawstring lining, to keep all your valuables safe. It had the classic top handle, but also a cross-body strap. The measurements are:
Handle Drop: 15cm / 5.9in
Depth: 15cm / 5.9in
Max. Strap Length: 100cm / 39.4in
Height: 17cm / 6.7in
Width: 20cm / 7.9in
This bag is very similar in size to the Chloe Nano Woody that you saw above, but it's a little taller in height. I like the rounded bucket shape that it has to it and I think it's a great alternative if you already have the traditional Woody tote.

The Chloe Woody Large Basket Bag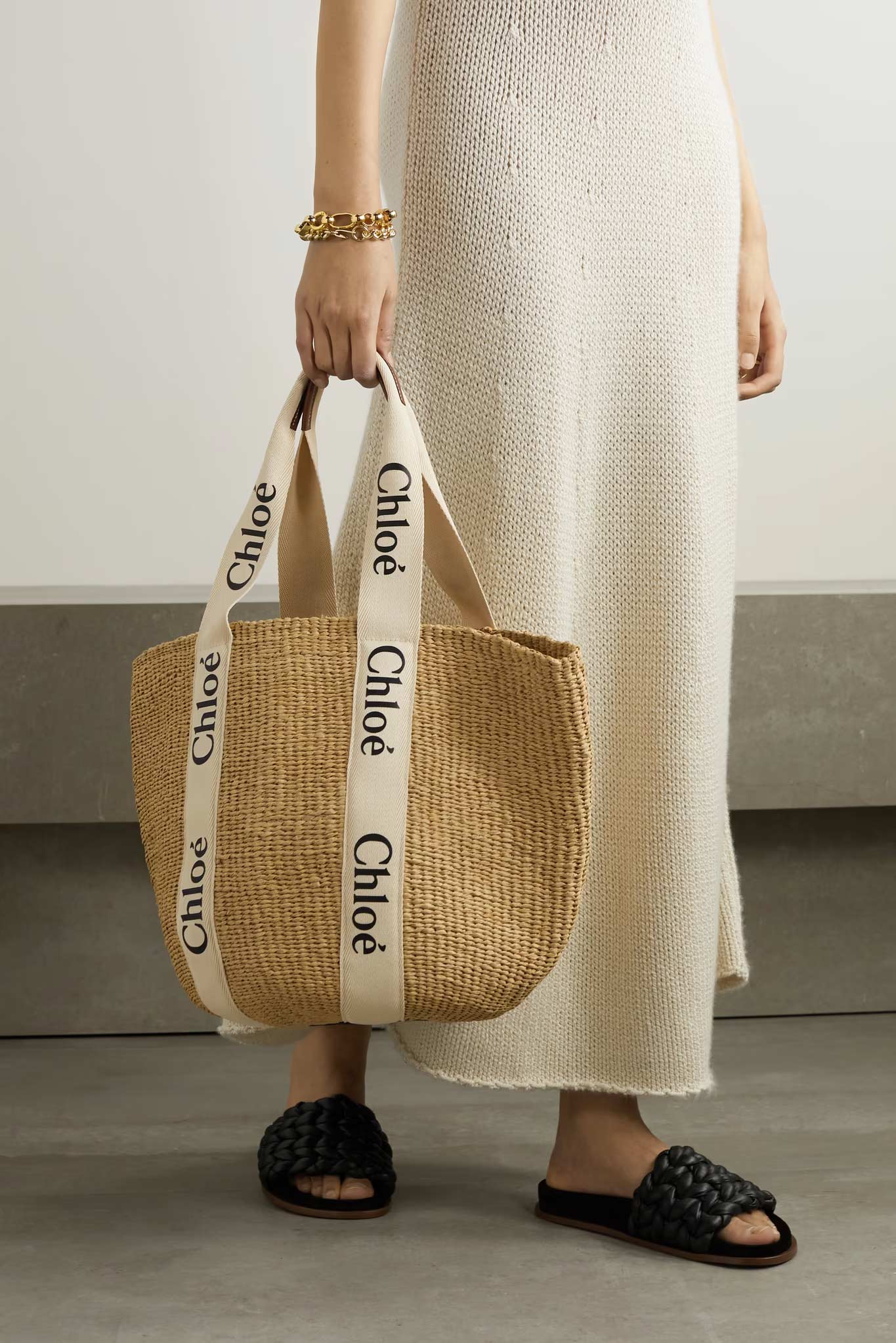 And finally, we have the Large Chloe Woody Basket bag. This one is much, much bigger and the next size up from the small, as they only produce two versions of the basket style. This basket bag would be ideal for picnics or days at the beach. The sizing is:
Handle Drop: 22cm / 8.7in
Depth: 26cm / 10.2in
Handle Length: 22cm / 8.7in
Height: 31cm / 12.2in
Width: 49cm / 19.3in
It looks like it would be close to the Medium Woody Tote in terms of sizing, but it has different proportions. I think this one is really chic and perfect for the summertime if you love wicker style basket bags like this!

So these are all of the sizes of the Chloe Woody Bags in the series, and I hope this ultimate buying guide has helped you in choosing the right size bag for you! Depending on your height and preferences for what you carry, there's a perfect option for you. Happy shopping!
Chloe Woody Tote Bag Review