There are some absolutely stunning summer shoes out at the moment! It's early August and the hot weather is still in full swing, but don't worry, these shoes will be sure to take you straight into the autumn months as well, so don't be afraid to make that purchase!
Here are 15 of the coolest, new, must have summer shoes from the hottest designers, chosen from the amazing selection at My Theresa (see others not featured here by clicking here). There's everything from flat sandals and espadrilles, to wedges, to sky high heels and more. In a wide variety of bright and neutral colours, these 15 summer shoes are must have's for this season.
15 Hot New Must Have Designer Summer Shoes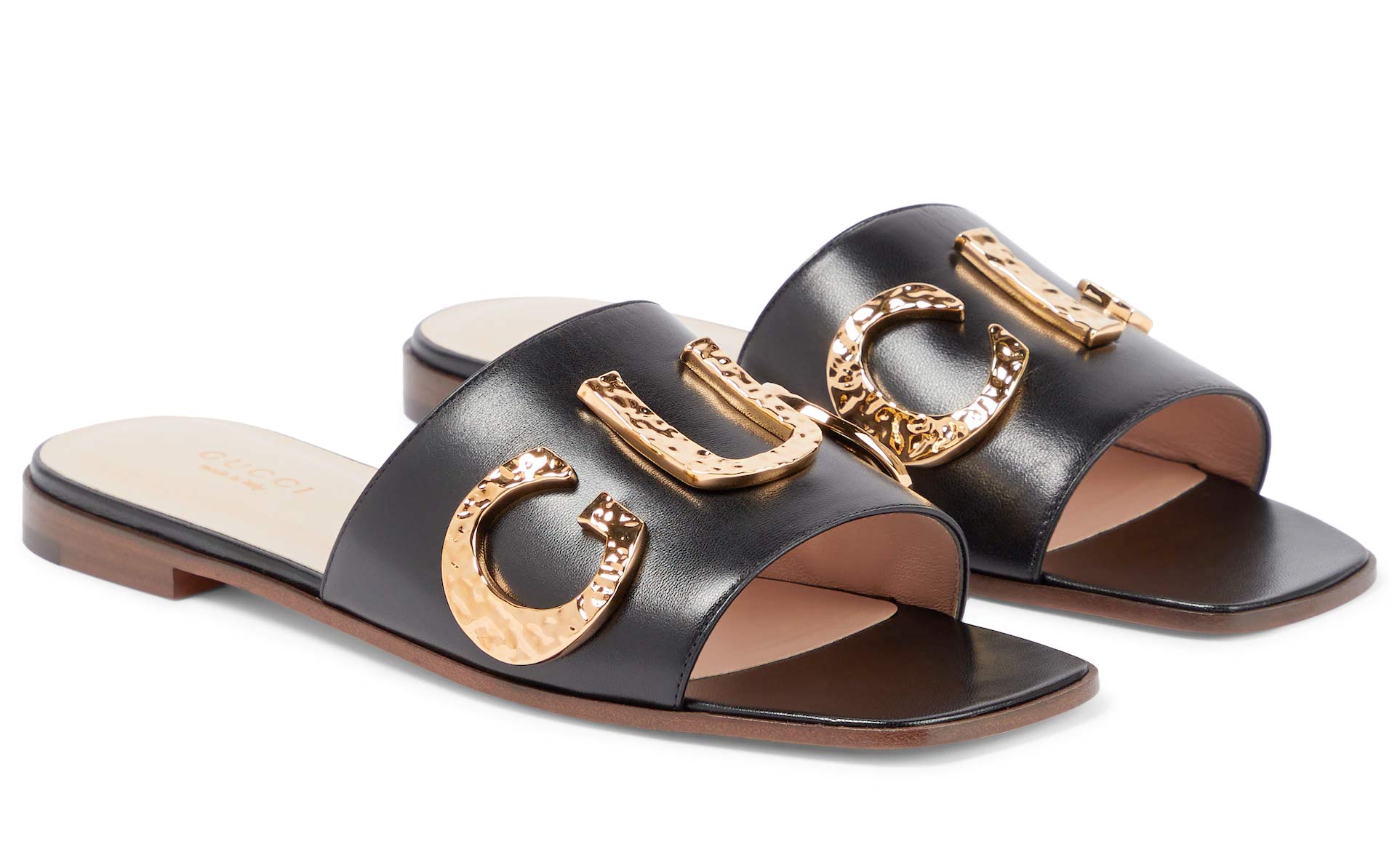 First up above is a gorgeous, simply stunning pair of Gucci embellished leather flat sandals. These are a personal favourite of my own as they're elegant, glamorous, sleek, subtle, stylish, but with just enough flare to look expensive and classy. A pair of flat sandals that combine every element you need in one! Luxurious simplicity is what springs to mind and they are so versatile, they will match everything. These are possibly one of the best designer shoe purchases you could make this year!
How gorgeous are these? Resembling the famous Mach & Mach crystal embellished pumps, these Amina Muaddi pumps come in a blazing yellow satin material with crystal bows on the pointed toe. Boasting a unique shaped heel and a fancy silhouette, you will be turning heads wherever you walk.
Fancy something with a flat heel and suitable for day wear? These Bottega Veneta padded leather sandals are the perfect choice. The quilted padded strap looks extremely soft and comfortable, while the sleek silhouette looks perfect for making your daytime looks elegant. What makes these sandals unique though? The metallic cucumber green leather – it's just incredible and looks so refreshing.
Perspex is one of the hottest materials for shoes this year and these Aquazzura bow tie plexi pumps are no exception. Coming in a statement orange suede with cute bows at the heel, you will look feminine and elegant in these shoes. Perspex is great for adding height to your legs too!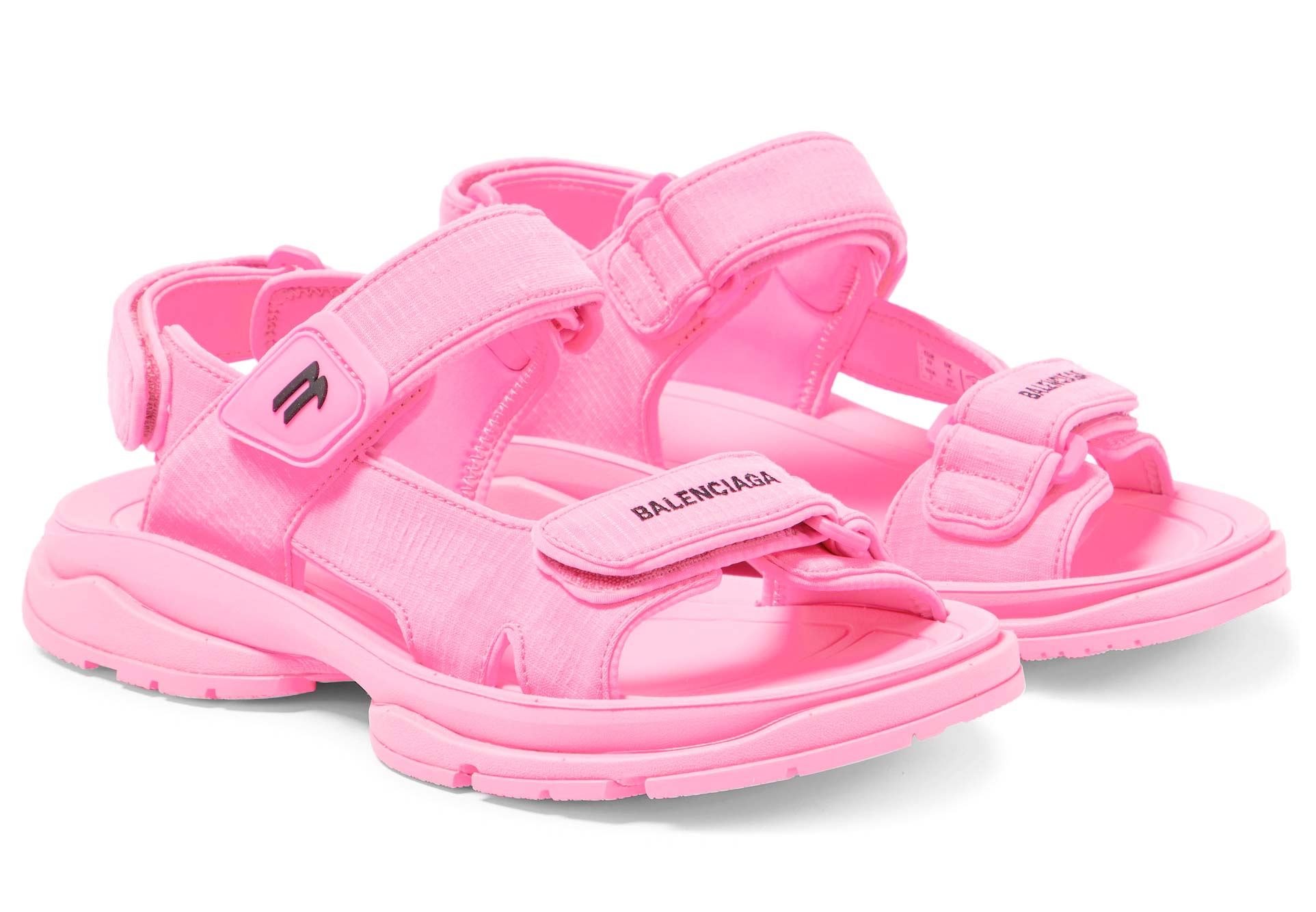 If you're more of a casual dresser and you enjoy walking, the Balenciaga tourist sandals are for you. Boasting a comfortable hiking sandal design with rubber soles, these bright pink flats are sure to make a statement. Bold, bright, and beautiful – I can see these being worn during fashion week.
If you prefer something a little more classic, but unique, then the Jimmy Choo Diosa mules are the perfect choice! Featuring the on trend square toe, these slip on mule sandals in a dusty pink shade are ideal for dresses and elegant outfits. The pink hue makes them suitable to wear in the daytime or the evening – making these shoes an extremely versatile option.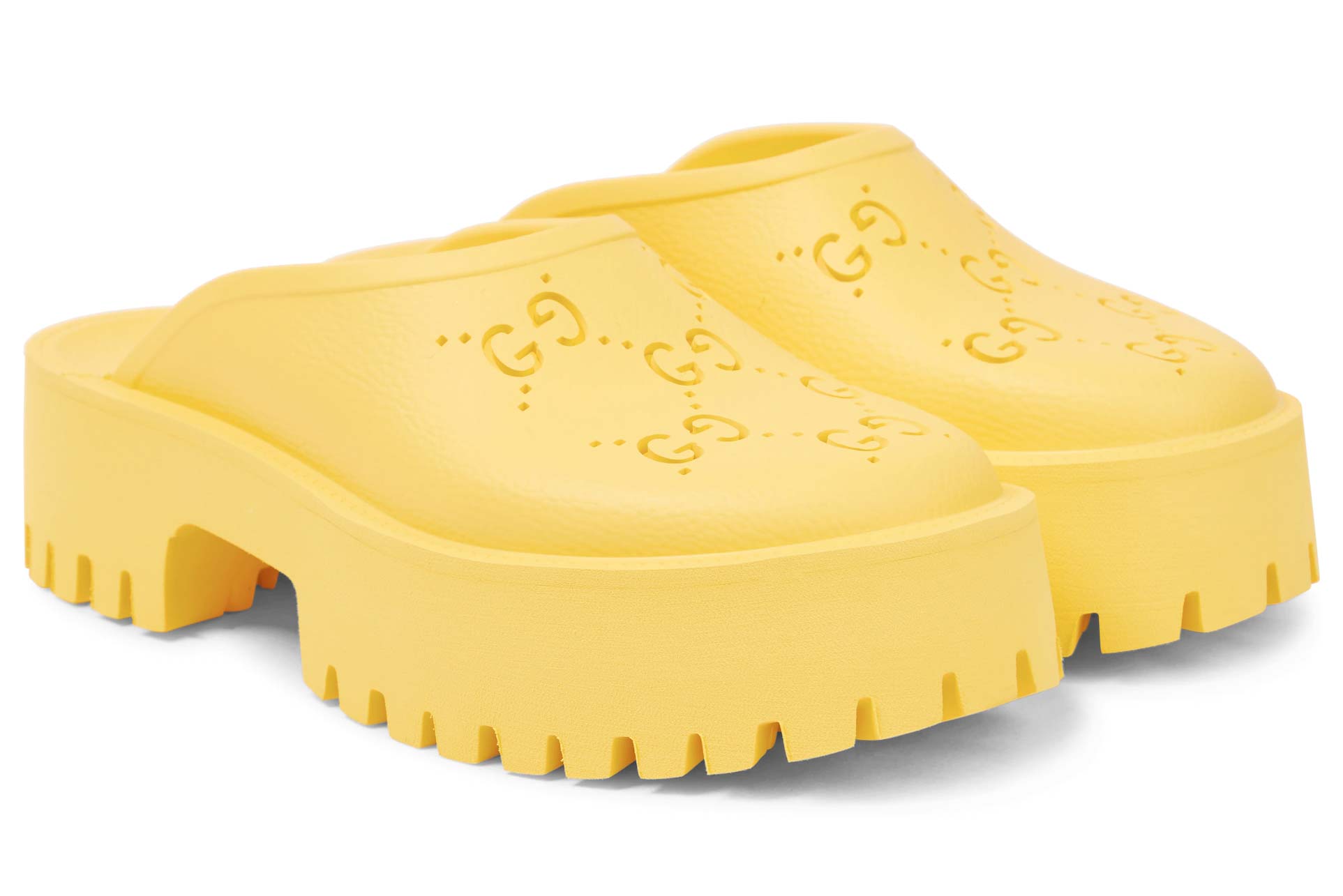 I'm sure you've heard that Gucci launched their own version of crocs and here they are! In sunshine yellow and featuring the GG logo monogrammed across the top, these rubber clogs will get the attention of everyone as you walk by. Again, these are a pair of shoes I can see at fashion week.
Another pair of perspex, but this time with an extra edge! The Christian Louboutin Spikoo PVC and leather pumps are such a showstopper, you will fall in love. Christian Louboutin is known for his famous studded spikes, which he has emblazoned the pointed toe cap with, in a stunning mint green. These do come in other colours and they are exclusive to My Theresa, so hurry to get these if they're calling you!
Bold and bright isn't for everyone, so these Jimmy Choo Maelie sandals will be the best option for you. Perfectly classic and minimal, in a gorgeous brown suede, these are luxury at your toes! You can't get more versatile than these in my opinion.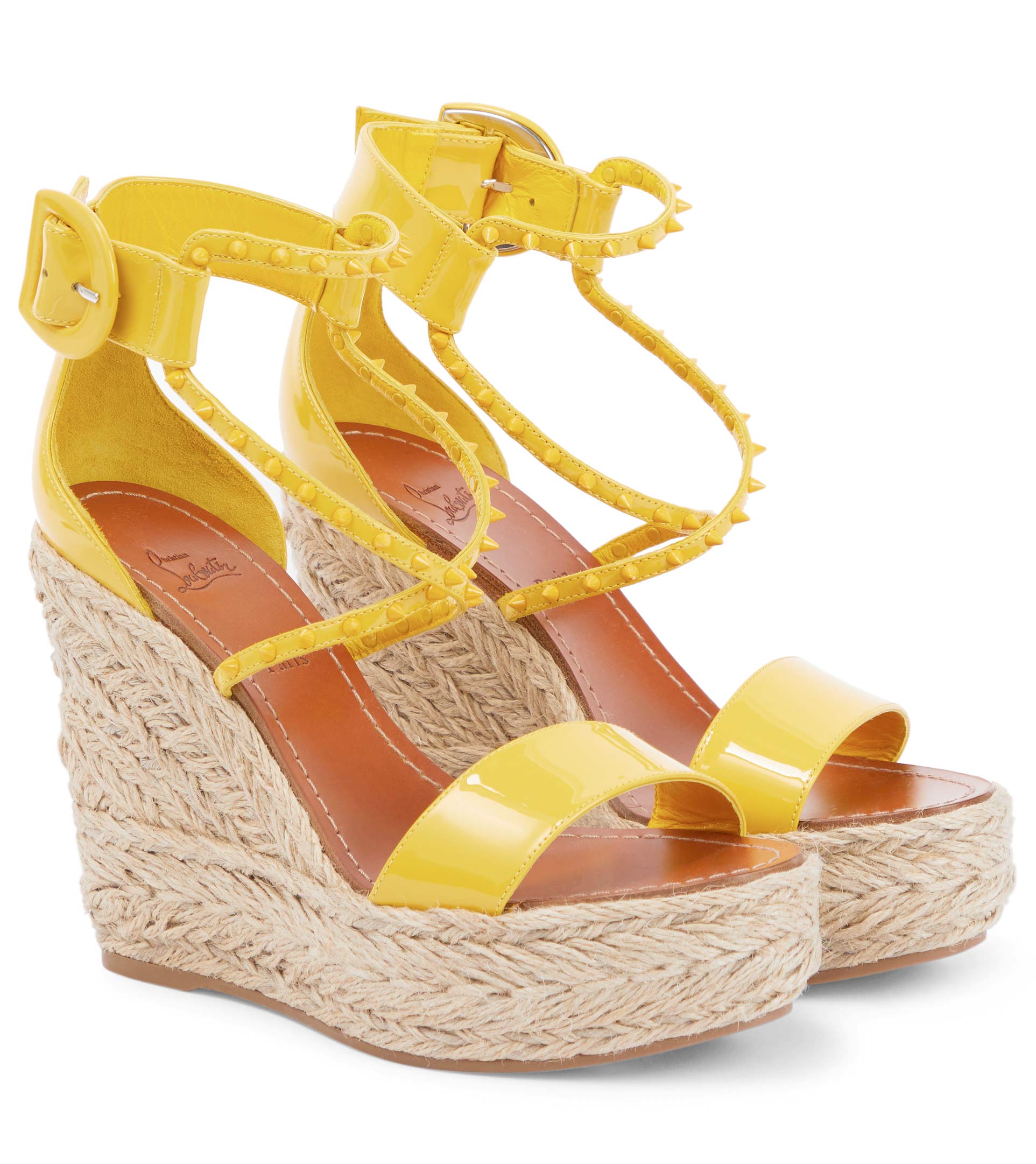 Wedges are always a popular choice in the summertime, especially with the straw weaving. These Christian Louboutin Chocazeppa wedges are another exclusive to My Theresa, coming in a bright yellow leather with spiked studs around the ankle straps – these are a feminine statement!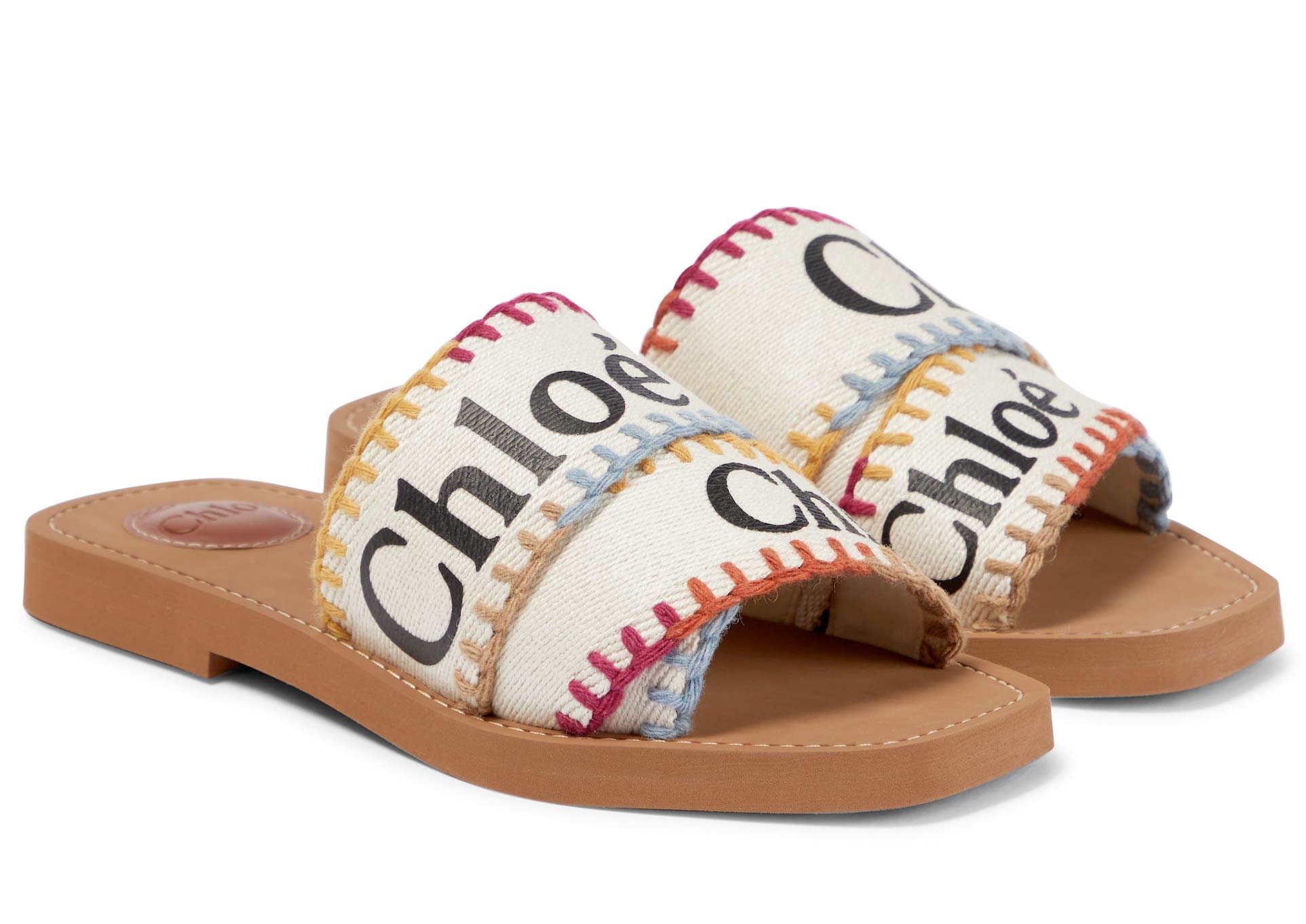 Next up is the Chloé Woody top stitched flat sandals, which are available in three different colours. This colourway is simple, yet fun, while remaining classic. I can visualise these gorgeous sandals with summer dresses as much as I can with skinny jeans and knitwear.
Made from a crochet style fabric, these Magda Butrym woven sandals in a beautiful ivory colour are just right for those summer evenings. I'm picturing these with white flowing dresses and brown leather tote bags – a combination you can't ever go wrong with.
If you're a fan of espadrilles and sandals, these Loewe Paula's Ibiza anagram sandals are the perfect choice. Coming in brown and cream, with a gorgeous orange sole, featuring the Loewe logo across the top – these are both cute and fun for daytime.
Another exclusive to My Theresa, these are the Christian Louboutin Spike Only sandals. Coming in a bright and succulent orange shade, with perspex straps, boasting the famous orange studded spikes. How much of a statement would you make in these? They're head turners for sure – the perfect summer shoe!
And last, but definitely not least, we have another perspex option, from Amina Muaddi. These are called the Holli Glass PVC slingback and they're presented here in a beautiful shade of green. Green can be difficult to get right without it being too bold or garish, but this shade has an element of earth tones to it that makes them absolutely beautiful. Another perspex showstopper!
– Out of these 15 must have summer shoes, which do you like the most?